Ways Our Battle Creek Family Chiropractic is Helpful for Relieving Shoulder Pain
Are you suffering from pain in your shoulder? Let us help with that. Here at BC Family Chiropractic, we have helped people just like you find relief from shoulder pain by finding and treating the cause directly. Our team of talented caring professionals strives to help our Battle Creek area patients return to a quality of life they can enjoy. But, what caused the pain in the first place and how can we help? We are so happy that you asked.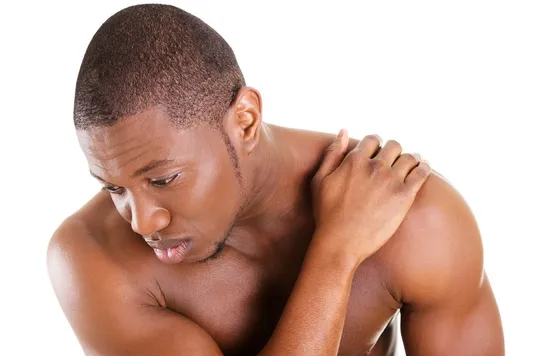 Commonplace Causes of Shoulder Pain
The most conventional causes of shoulder pain include a plethora of injuries, conditions, and other factors. The cause can be an issue that is directly affecting the shoulder. The pain in one's shoulder can also be caused by issues in other locations within the body that radiates to the shoulder, also known as referred pain.
The causes of shoulder pain include conditions and injuries such as:
Inflammatory conditions such as rheumatism and/or arthritis
Shoulder Bursae – inflammation of the bursa (a small sac of fluid for cushion)
Strains – overstretching/tearing of the tendon/muscle
Adhesive Capsulitis – aka Frozen Shoulder – causes severe pain and stiffness
Rotator Cuff Injury
A traumatic injury like those incurred in sport, vehicular, or other accidents
Shoulder joint dislocation
Sprains – violent twisting/wrenching of ligaments in a joint resulting in inflammation, pain, and loss of mobility
Tendinitis – inflammation of the tendons in the shoulder from overuse, rheumatic disease, and/or infection
Tumors – exceedingly rare but possible
How Our Chiropractor Can Help
With treatment by a well-trained caring chiropractor like Dr. Justin D. Casey at BC Family Chiropractic, many of the causes of shoulder pain – and thus the pain itself – can be eradicated. Before any treatment can begin Dr. Casey and the staff here will collect vital information that will assist with diagnosis. We will then develop a personalized treatment plan that takes your unique situation into consideration.
To do this, we will gather the needed info via:
An oral medical, familial, and social history
A physical exam of the shoulder and the tissues surrounding it
A neurological examination to establish a basic understanding of nerve function
Optional imaging tests such as x-rays, MRIs, CAT scans, etc.
Chiropractic Shoulder Pain Treatments
Dr. Casey has over 150 proven chiropractic techniques available to use for treatment. We will determine which of these techniques will help your shoulder by reducing stiffness, inflammation, and pain. The end goal is to restore the structures of your shoulder to optimal health and function.
To achieve this objective, we may use methods such as:
Manual spinal manipulation
Nervous system subluxation
Therapeutic massage
Active Release Technique
Trigger Point therapy
Spinal decompression
Contact Our Battle Creek Family Chiropractic in Battle Creek, MI!
To find out more, stop by BC Family Chiropractic in Battle Creek, call us at (269)966-2006, or schedule an appointment online now.